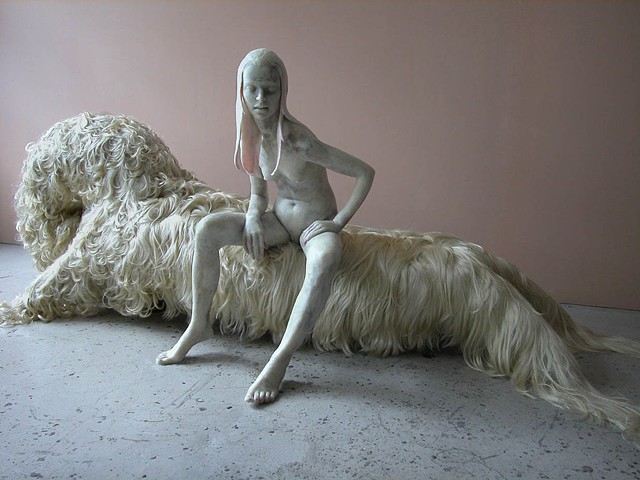 Laura Frazure is a sculptor and Assistant Professor in the School of Art at The University of the Arts. She has taught anatomy at The New York Academy of Art, the Central Academy of Fine Art in Beijing and the Tianjin Academy of Fine Art in Tianjin.
Believing in classical ideas about form sense and its communicative potential, Laura models figures that are theatrical and contemporary. In her works over the past decade, she has emphasized "direct modeling", highlighting form and form development with no subsequent mediatory processes. Using translucent waxes coated with a thin glaze of oil paint and varnish, the figures are constructed on a steel reinforced aluminum wire armature. The final outcome, though stable and permanent, conveys an ephemeral quality of fragile immediacy.
The figure on view reflects Laura's interest in the conventions of "bodily rhetoric", which she describes as denaturalized figural attitudes or poses, invented to express ideas intrinsic to a particular medium. The Greek Kouros figures serve as notable examples of a derived pose specific to the medium of sculpture. The sculpture shown references the idiosyncratic, media generated poses of contemporary fashion photography, with the presentation of the body, as in the Kouros figures, lying outside the realm of normal posture and colloquial gesture.